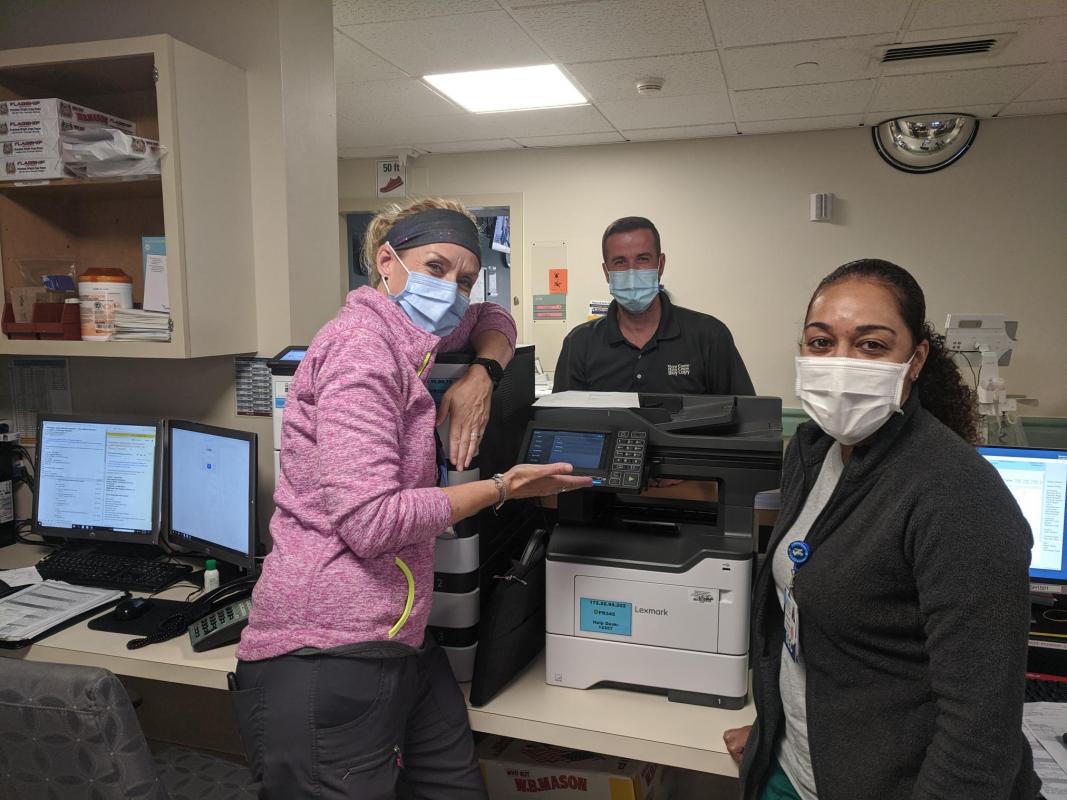 Bay Copy (http://baycopy.com), a leading provider of digital document solutions, has entered into a five-year agreement with Signature Healthcare an integrated healthcare organization that owns Brockton Hospital, Signature Medical Group and the Brockton Hospital School of Nursing to upgrade its Document Management and Managed Print Services programs, with a goal of saving the healthcare system significant funds on its annual costs to generate documents.
Bay Copy's work with Signature Healthcare will include the replacement and upgrading of 500 machines within the Signature Healthcare group, including copiers and multi-function printers that are located in both the hospital and all of Signature Healthcare's ambulatory sites. Because of Bay Copy's knowledge and experience, they have been able to implement these improvements in a 30-day period.
With healthcare facilities facing financial challenges due to COVID-19, the medical industry is looking for cost savings in new ways. One significant but often overlooked savings is through a program known as Managed Print Services (MPS), practice of designing systems to produce documents at the lowest per-page cost.
Ray Belanger, CEO of Bay Copy, explains. "Businesses and organizations typically spend about 3% of their annual revenue on document output. So every $1,000,000 of revenue means $30,000 in document generation costs. What further drives up the costs of document generation is that many facilities use their high-price IT team to address printing and related actions, further driving up the expense. By streamlining document costs and freeing up the IT teams, there are some substantial savings to be had."
An MPS program typically saves between 10% and 15% of the actual costs to produce documents by identifying an institution's current and anticipated printing requirements, analyzing the current printer fleet, and ensuring optimal equipment performance. In the case of Signature Healthcare, the annual savings will reach 21%.
"MPS is ideal for medical centers, hospitals and physicians' offices," Belanger said, adding, "MPS looks at the cost-per-page page cost as the bottom line, in contrast to the final price point of office equipment. Its fundamental premise is consideration of all costs associated with leasing/owning and using printing and imaging equipment, including maintenance and ongoing support, which is important for facilities with multiple locations or satellite offices. Print management software tracks the number of prints each piece of equipment uses and produces reports that help manage for increased efficiencies."
One of the misconceptions that people hold is that a fairly inexpensive desktop printer (the $79 to $150 variety available at the big box stores) is efficient. Many of them end up costing as much as seven or eight cents per page because of the expensive ink cartridges with relatively short shelf lives. An increasingly important component of an MPS system is an in-place tracking software program that enables the provider to monitor clients' systems remotely, alerting them to potential misfeeds or low toner, thereby averting work stoppage.
Bay Copy also leveraged its relationships with leasing companies and was able to arrange a three month deferral on payments for Signature.
"Signature Healthcare is a world class organization," Belanger said, "and we're pleased to be able to work with them and help them save costs on their document generation and put their resources where they really want to deploy them." He continued, "We have had the opportunity to work with them over the last 35 years to meet their document generation needs, and we are extremely pleased to partner with them on this newest project which will help them achieve significant savings and efficiencies."
Because of the restrictions of COVID-19, the installation and setup of each individual machine has required additional layers of preparation, including dispatching technicians at times when traffic is lower and requiring additional protection for technicians. Bay Copy has implemented very stringent safety precautions. "We have trained our technicians on appropriate use of Personal Protection Equipment and we are working closely with the facility to find times to do installations and connections that are convenient for them," Belanger said.
Phil Capone, Director Corporate Materials Management at Signature Healthcare, said. "I've worked with Ray Belanger, Sharon Mutrie and the rest of the Bay Copy organization for seventeen years. It never ceases to amaze me of the endless cost savings measures they present to us. Over the last three years we have worked together to successfully lower our printer and copier budget. As a result of signing the most recent agreement, our expenses will be lower than budget for the next three years as well.
"Their industry expertise goes deep into their organization. Their technicians are knowledgeable of all facets of printing and copying including hard wired and wireless connections, software scanning and file setup and faxing over IP.
"If you have not gone out to bid in awhile, I suggest you give Bay Copy an opportunity to take a look at your copier and printer operations."
To learn more about MPS and how it can save costs in the healthcare industry and others, please email info@baycopy.com.
About Bay Copy
Bay Copy maintains headquarters at 100 Reservoir Park, Rockland, MA and has nearly 50 years of experience serving the document imaging needs of businesses throughout Massachusetts. In addition to a full line of Konica Minolta, Toshiba, Muratec and Lexmark equipment, Bay Copy provides comprehensive Managed Print Services (MPS) programs for customers. Developing a strategic base solution from the top down to meet company's compliance and security issues by focusing on work-flow. The resulting benefits to their clients in the areas of: IT, Output and Labor Costs. Bay Copy provides consultation services and offers their clients detailed print assessment and analysis reports.
Bay Copy has won a number of industry awards including "Re-Seller of the Year" by the national Business Technology Association, "Applications Dealer of the Year" from Konica Business Technologies; "Elite Dealer" from Office Dealer Magazine; the Business Technology Association Award of Excellence; the South Shore Chamber of Commerce's Success Profiles award; and the United States Chamber of Commerce's Blue Chip Initiative Enterprise award. For additional information on Bay Copy, services or a demonstration of the latest solutions available, please call (888) 871-7151 or visit the company's website at www.baycopy.com.