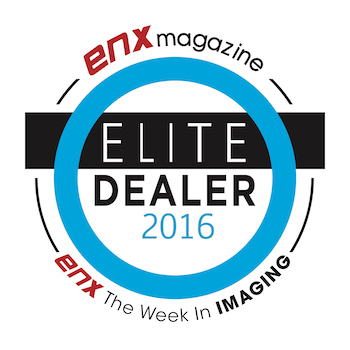 Rockland's Bay Copy receives 2016 Elite Dealer Award; Rockland celebrates marks 19th year of being selected among top of industry
ROCKLAND, MA, ISSUED JANUARY 25, 2017…For the 19th consecutive year, Bay Copy, (www.baycopy.com), the region's leading provider of digital document solutions, has received the Elite Dealer Award from the national trade publication ENX Magazine/The Week in Imaging.
ENX Magazine is a national monthly publication which has been dedicated to the document imaging industry since 1994. The magazine provides exclusive editorial coverage on market opportunities and issues, news and trends, company profiles, new products, and industry insights through interviews with key leaders in all segments of the document imaging industry. With a circulation of more than 30,000 print copies and a weekly online newsletter subscription of 12,000, ENX magazine serves as a leading integrated resource that brings together industry people, products, and business concepts and strategies for document imaging industry professionals.
The Elite Dealer annual award honors the best and the brightest in the dealer community. Selections are based on a company's growth, innovative marketing, sales programs, community leadership and leadership within the industry.
Bay Copy was one of 40 dealers nationally who qualified for the 2016 designation. As part of the selection process, the company is profiled in ENX/The Week in Imaging.
"We're thrilled to once again be chosen to receive this prestigious award," said Ray Belanger, President of Bay Copy. "ENX is a highly respected source of industry news, providing valuable information to its readers each month." He added, "We thank Susan Neimes, the editor, and appreciate her efforts to report on and advocate for this industry."
He continued, "We recognize the importance of staying on the cutting edge of technology and appreciate being recognized for our work in this industry."
About Bay Copy
Bay Copy maintains headquarters at 100 Reservoir Park, Rockland, MA and has more than 40 years of experience serving the document imaging needs of businesses throughout Massachusetts. In addition to a full line of Konica Minolta, Toshiba, Muratec and Lexmark equipment, Bay Copy provides comprehensive managed print services programs for customers looking to reduce both their per-print price of generating information and their labor costs. Bay Copy provides consultation services and offers their clients detailed print assessment and analysis reports.
Bay Copy has won a number of industry awards including "Re-Seller of the Year" by the national Business Technology Association, "Applications Dealer of the Year" from Konica Business Technologies; "Elite Dealer" from Office Dealer Magazine; the Business Technology Association Award of Excellence; the South Shore Chamber of Commerce's Success Profiles award; and the United States Chamber of Commerce's Blue Chip Initiative Enterprise award. For additional information on Bay Copy, services or a demonstration of the latest technology available, please call (781) 871-6670 or visit the company's website at www.baycopy.com.
Bay Copy's Community Involvement
Bay Copy's President is past Chairman of the South Shore Chamber of Commerce, one of the largest Chambers in the Country. Sharon Mutrie, VP of Sales is on the Board of Directors for South Shore Habitat for Humanity. Bay Copy has a long history of being an active member of the community and helps support numerous non-profits through the area.